THE LOST CODEX OF AVALON: PRE-ORDERS NOW AVAILABLE!
A one-of-a-kind medieval and fantasy collaboration between composer and performer David Yardley and some of Australia's finest musicians from the Sydney Chamber Choir, the Song Company and Pastance.  Inspired by his lifelong immersion in authentic medieval sound, Yardley's compositions conjure lost music of the mythic isle of Avalon, from Arthurian legend. The album journeys through long-forgotten medieval texts whose original music has not survived, as well as musical settings of fantasy poetry and contemporary Australian works. Many pieces were premiered in London and New York between 2015 and 2019 – examples of live performances are online here and here.
Pre-order here at the early-bird price of $14.95 (USD). A dollar from each pre-order will go to the Australian Red Cross for its pandemic and bushfire responses. You will receive the music from the album on CD and on USB memory stick as well as album booklet.
COMPETITION OUTCOME – PUBLISHED FANTASY AUTHORS
In the midst of this challenging time for artists (and for everyone), I'm delighted to announce the outcome of the inaugural Published Fantasy Authors Competition.
Congratulations to Anne Casey as the winner of the competition, for her poem "Whisperings"!
Anne's poem "Whisperings" has previously been awarded First Prize in the Henry Lawson Verse & Short Story Competition 2018 – Traditional Verse (Australia). It was first published in the Henry Lawson Verse & Short Story Competition 2018 Anthology, and subsequently in her poetry collection out of emptied cups (Salmon Poetry 2019).
(Web: anne-casey.com, Twitter: @1annecasey, Instagram: instagram.com/1annecasey/)
The judges also recognised Runner-Up and Highly Commended entries as follows:
Runner-Up:
JC Anderson, "Ballade: The Phoenix"
Highly Commended:
Penelope Cottier, "Music of Fairy Tales"
Magdalena Ball, "Technological Singularity"
Karla Dearsley, "Discord's Child: The Song of Passing"
As part of the winning prize, I am so excited to be working with Anne to set music to her poem. "Whisperings", set to music, will appear as part of my upcoming album, "The Lost Codex of Avalon", featuring some of Australia's finest musicians recording my medieval- and fantasy-inspired compositions.
Discount pre-orders of the album are now available at: davidyardleymusic.com/store1/ – with a dollar from each pre-order going to the Australian Red Cross, including to support its pandemic and bushfire responses. For a taste of the musical style of the album, head to: https://www.youtube.com/watch?v=W4UgYDXD8hc
On behalf of all the judges, I'd like to offer sincere thanks to the authors from across the world who submitted their works for this competition – the number and quality of the entries was absolutely wonderful to see.
Heartfelt thanks to the other members of the judging panel, who so generously gave their time and expertise – Fiona and Monique.
A final note – due to all the interest in this inaugural competition, we are hoping to run more in future. So please join the mailing list at davidyardleymusic.com to receive updates, including news of further fantasy author competitions!
EVENTS
1. Exclusive Album Preview Concert – ongoing – bonus available with album pre-orders
David Yardley (countertenor, medieval harp) and professional musicians from the Canberra-based Luminescence Chamber Singers, created an online exclusive preview concert of works from David's new album of compositions, The Lost Codex of Avalon. Receive your exclusive link to view the online concert with any pre-order of The Lost Codex of Avalon.
The performance was recorded in the Drill Hall Gallery in the Australian National University. 
Join the mailing list to receive notice of new events!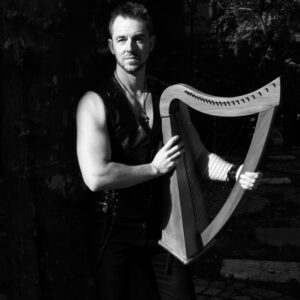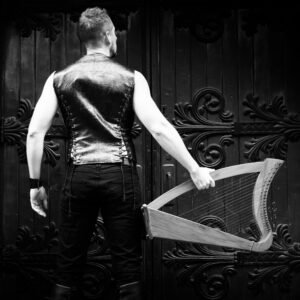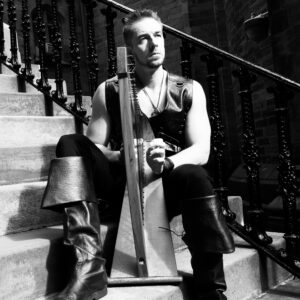 Some of the great musicians I currently work with or have worked with in the past – visit their websites and see what they're about:
Incredible historic cathedral in the UK with a stellar choir
World-wide medieval musicians descend every year on Besalu for these exceptional music courses
One of the most famous Episcopalian churches in New York, with one of the best choirs in the world
Beautiful, historic church and a hub of early musicians in the city
Ensemble of musicians committed to high-quality classical performance and the values of the United Nations
Canberra-based professional quartet
Superb choir at the University of Cambridge, UK
One of Sydney's foremost choirs
World-renowned medieval ensemble based in Sydney, Australia
Ensemble of young professional singers in Canberra, Australia
Soprano in Canberra, Australia
Edinburgh-based medieval music duo
One of Australia's foremost countertenors
The inspiration for a generation of medieval musicians in Australia and beyond
Leading organist and conductor/director
Formerly director of the Choir of Jesus College Cambridge
Director of the Clerks' Group, I had the privilege to sing in the Cambridge Medieval Music Group, led by Edward
Canberra-based musician/recording artist/all-round great musician!
Outstanding guitarist, we've performed English lute songs together